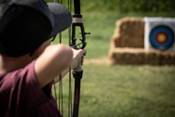 Barnett Centershot Youth Compound Bow
Highlights
Any righty or lefty ages 5 and up can easily master shooting this youth bow with absolutely no adjustments needed
Built-in arrow rest and adjustable sight pin
Perfect starter bow for ages 5 & up
Delivery & Pickup Options
---
FEATURES:
True ambidextrous shoot-through riser
Fits most young archers
Easy to use
Soft-touch reinforced grip
Mossy Oak Bottomland camo wrap
Integrated arrow rest
Soft-touch finger rollers
Built-in adjustable sight pin
Any righty or lefty ages 5 and up can easily master shooting this youth bow with absolutely no adjustments needed
Includes: 2 Fiberglass Arrows, Hip Quiver
Speed test using 380-grain arrow.
SPECS:
Dimensions: 8.50" L x 2.63" W x 37" H
Weight: 1.50 lbs.
Draw Length: 18-22"
Draw Weight: 16 lbs.
Age Range: 5 and up
BOW & CROSSBOW MANUFACTURERS REQUIRE THAT IF YOU NEED TO RETURN A PRODUCT, OR HAVE ANY WARRANTY CONCERNS, YOU MUST CONTACT THEM DIRECTLY. YOU MUST HAVE YOUR PAID RECEIPT.
Web ID:

22BT2YCNTRSHTCMPNABW