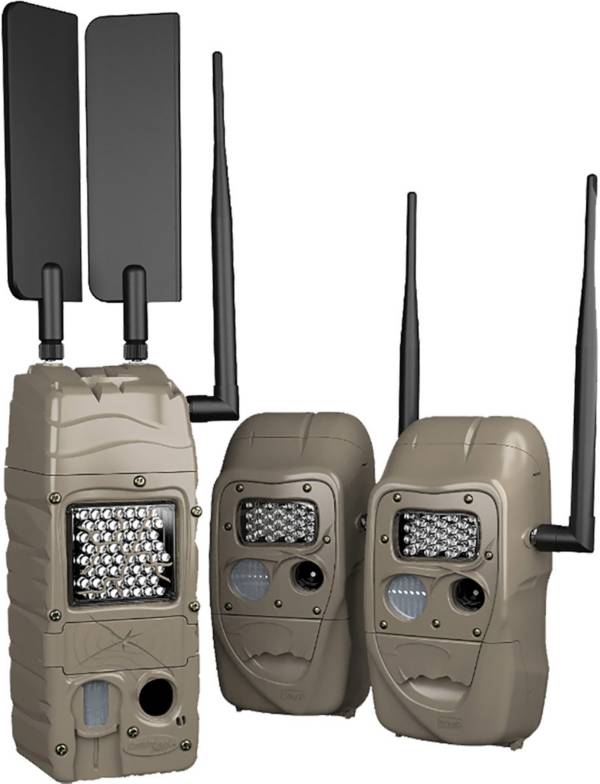 CuddeLink PowerHouse IR Cellular Kit
Cellular Carrier:
Verizon
Highlights
Photos are sent directly to your phone via either Verizon™ or AT&T™ cellular service
Up to 23 cameras can be connected wirelessly to the main camera with a cell plan
Compatible with all CuddeLink cameras
Long range IR setup helps prevent spooking
SPECS:
Megapixels: 20
Dimensions: 8.5 in H. x 3 in. W. x 3.5 in. D (G-Series), 7 in H. x 3.25 in. W. x 3 in. D (J-Series)
Trigger Speed: ¼ of a second
LEDs: 56 850nm(G-series), 24 850nm (J-series)
Flash Type: Power House IR (G-Series), Low glow IR (J-Series)
Flash Range: 100 ft.
DESIGN & DETAILS:
Package includes one model G-5109 (Verizon™) or G-5147 (AT&T™) and two model J-1521 cameras
Never have to go out to check your cameras, images are texted or emailed to your phone
CuddeLink Wireless™ network allows up to 24 Cuddeback cameras (depending on firmware) to link up and transfer all their images to the main CuddeLink PowerHouse IR Cell camera which emails or texts them to you
The first picture is taken a ¼ second after being tripped and recovers for a second picture within one to two seconds
100 ft. flash range
Features 56 850nm high power LEDs on the G-series, and 24 850nm high power LEDs on the J-series
Choose either 5MP or 20MP for full-color daylight images and crisp black/white nighttime images
Time lapse is fully programmable from 10 seconds to 24 hours
Delay can be set for 1 sec. to 60 mins.
Burst mode can be set to take multiple images per encounter
Video in 10, 20, or 30 sec. increments, stills can also be taken during this time
Separate delays, time lapse, images, burst, and image settings for day and night
Imprints each photo with date, time, Cam ID, and moon phase
Includes: 1- G-5109 or G-5147 CuddeLink PowerHouse IR Cell, 2- J-1521 CuddeLink Long Range IR Cameras, 3- CuddeLink antennas, 2- LTE high-gain antennas, Genius™ Mounts and straps for each camera
Each camera runs on four D-cell batteries
TECH SPECS:
One cellular plan covers up to 24 cameras via the CuddeLink Wireless network and CuddeLink Cell™ network
Compatible with all CuddeLink cameras
Country of Origin : United States of America

Brand :

Cuddeback
Web ID:

21CUDUCDDLNK21STRTCHA

SKU:

22317533