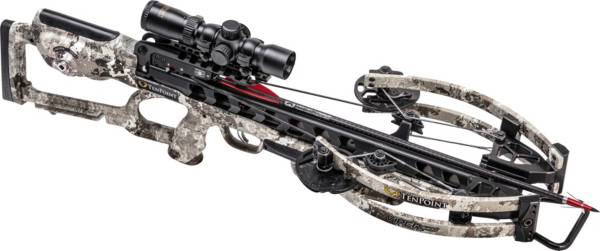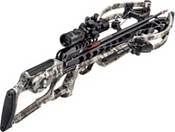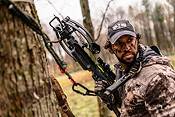 TenPoint Viper S400, ACUslide with RangeMaster Pro Scope - 400 FPS
Delivery & Pickup Options
---
Shipping Information
Shipping Restrictions May Apply.
Oversized Shipping Charges Apply.
Usually ships in 5 business days.
Complete with the revolutionary ACUslide silent cocking and safe de-cocking system, the TenPoint® Viper S400 delivers a lightweight 32" length and is TenPoint's® shortest forward draw crossbow. Able to fire arrows out to 400 FPS and complete with a 3.5 pound 2-stage S1 trigger, Micro-Trac Barrel, and RangeMaster Pro scope for hairsplitting accuracy down range, the Viper S400 is silent, safe, maneuverable, and accurate.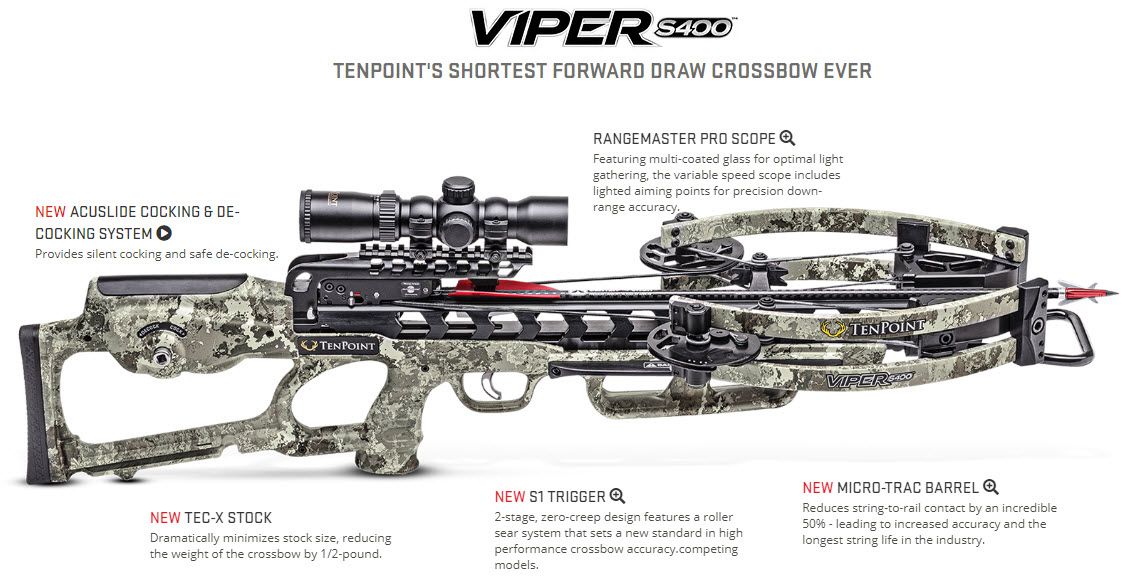 FEATURES:
TenPoint's® shortest forward draw crossbow with a mere 32" overall length
ACUslide silent cocking and de-cocking system for silent cocking & safe de-cocking
Forward-draw design with an 11" power stroke & speeds up to 400 FPS
Super narrow 7.2" cocked axle-to-axle width
2-stage, zero-creep S1 Trigger with roller sear system
Micro-Trac barrel with 50% reduction in string to rail contact
Rangemaster Pro scope with variable speed design & fully multi-coated optics
Tec-X stock drastically minimizes stock size & weight
Specs:
Length (w/o foot stirrup): 32"
Width Axle-to-Axle (uncocked/cocked): 11" / 7.2"
Power Stroke: 11"
Weight (w/o accessories): 7.5 lbs.
Speed: 400 FPS / 132 FP KE
Includes:
RangeMaster Pro Scope
ACUslide Cocking & De-Cocking System
Six-Arrow Tech Quiver
Three Evo-X CenterPunch Premium Carbon Arrows
Three 100 grain field points
BOW & CROSSBOW MANUFACTURERS REQUIRE THAT IF YOU NEED TO RETURN A PRODUCT, OR HAVE ANY WARRANTY CONCERNS, YOU MUST CONTACT THEM DIRECTLY. YOU MUST HAVE YOUR PAID RECEIPT.
Web ID:

2010PUVPRS400PCKGABW